It is not only a strategic course of action in response to climate change but also an inevitable option to promote the building of a community with a shared future for mankind that every nation should achieve peak CO2 emissions to carbon neutrality. As part of the 125th anniversary of Zhejiang University and Global ZJU for Social Good (Z4G), the 1st Asia-Pacific Carbon Neutrality Symposium was successfully held virtually on April 11-12. The symposium was jointly hosted by Zhejiang University, the University of Sydney (USYD), the National University of Singapore (NUS) and Indian Institute of Technology Madras (IIT Madras). It aimed for robust discussions on Carbon Capture, Utilization and Sequestration, Sustainable Energy, and Sustainable City and Construction, promoting cross-institutional knowledge sharing in the Asia-Pacific region and solutions to major global challenges.
Prof. HE Lianzhen, ZJU Vice President, Prof. Katherine Belov, USYD Interim Deputy-Vice-Chancellor (Research), Prof. Reuben Wong, NUS Associate Vice President, and Prof. Ragunathan Rengaswamy, IIT Madras Dean for Global Engagement delivered speeches at the opening session, which was moderated by LI Min, Director of the ZJU Office of Global Engagement.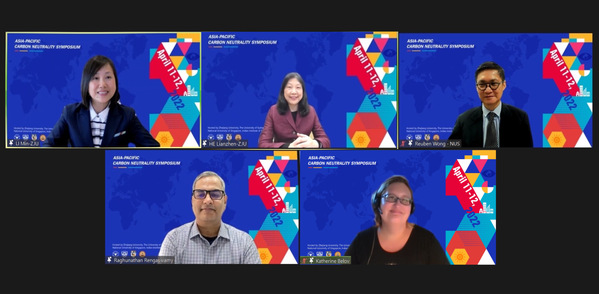 Prof. HE Lianzhen extended her cordial welcome to the participants on behalf of Zhejiang University. She said that since universities, as knowledge hubs, have a unique advantage in responding to social challenges through academic prowess, research, innovation and service, they should play important role in implementing the SDGs. "By means of this quadrilateral meeting, we hope to promote knowledge sharing and transfer across universities, while nurturing opportunities for collaborative initiatives," said Prof. HE.
Prof. Katherine Belov stressed the urgency of tackling climate change. "It's a chance for universities to take the lead on the biggest challenge we have ever faced, and to help us not just make a carbon neutrality target, but comprehensively beat them," said Prof. Belov.
Prof. Reuben Wong pointed out that sustainable development issues called for the concerted efforts of the international community. "Through research collaborations, we harness the strength of our diverse background and experiences, and I hope that the symposium will be a start to that," said Prof. Wong.
"In IIT Madras, we believe that you need to educate young children, engineers and so on to this problem. We bring students together to think about the sustainability problem," said Prof. Ragunathan Rengaswamy.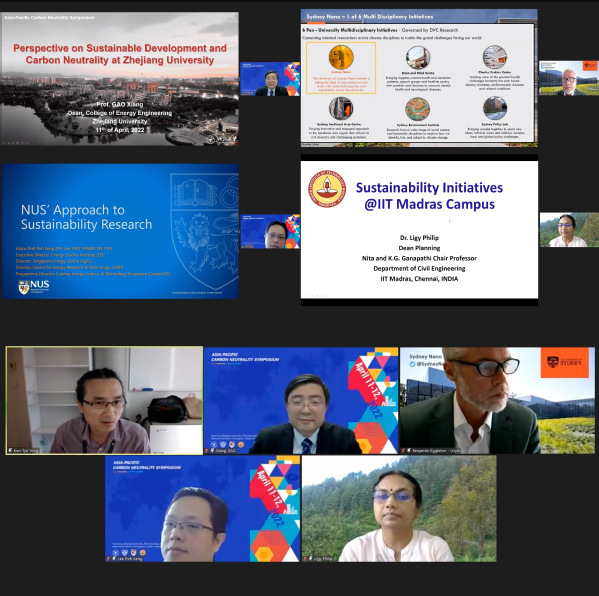 After the opening session, Prof. GAO Xiang, Dean of the ZJU College Energy Engineering, Prof. Benjamin Eggleton, Director of the USYD Nano Institute, Prof. Lee Poh Seng, Director of Centre for Energy Research & Technology, NUS, and Prof. Ligy Philip, Dean of the IIT Madras Department of Civil Engineering delivered keynote speeches in terms of University Approach to the Sustainability research (SDGs). It was chaired by Prof. Ken-Tye Yong, Associate Dean of the USYD Faculty of Engineering. 
Prof. GAO Xiang reviewed the progress that Zhejiang University has made in the fields of energy and carbon neutrality, including renewable energy, energy storage and hydrogen energy, clean and low-carbon utilization of carbon-based energy, flue gas pollution control, and CO2 capture and utilization. He also introduced relevant interdisciplinary programs, talent cultivation and international cooperation. Prof. Benjamin Eggleton introduced the sustainable strategy of USYD and the sustainable actions carried out by the USYD Nano Institute at worldwide, nationwide and university-wide levels. In his talk, he focused much attention on how to achieve carbon neutrality using nanotechnology. Taking, as examples, research projects such as urban heat resilience, sunshine to new energy and agriculture-food technology , Prof. Lee Poh Seng depicted how NUS engaged in sustainable development in research and innovation. Prof. Ligy Philip also introduced the sustainable strategy of IIT Madras in biodiversity, energy management and education.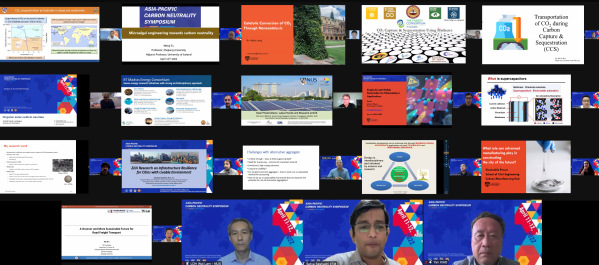 The symposium included three sub-sessions: Carbon Capture, Utilization and Sequestration (CCUS), Sustainable Energy, and Sustainable City and Construction. The participants discussed the use of deep-sea precipitation hydrates, marine microalgae engineering and nanocatalysis in carbon capture, utilization and sequestration, the promotion of sustainable energy in such cutting-edge frontiers as organic solar cells, solar photovoltaics, photo-catalysts, super-capacitor energy storage and nano-catalysts, as well as the building of a sustainable and livable environment in terms of urban infrastructure resilience, sustainable urban design, lowering CO2 emission in concrete construction, biomass building materials and eco-friendly road freight transportation. The sub-sessions were chaired by Prof. Loh Wai Lam from the NUS College of Design & Engineering, Prof. Satyanarayanan Seshadri from the IIT Madras College of Applied Mechanics, and Prof. XIAO Yan from the ZJU-UIUC Institute.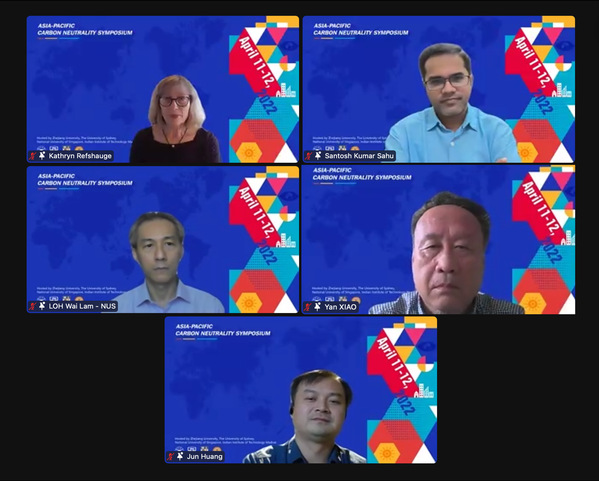 The symposium was concluded by an in-depth discussion on the prospects for cooperation and collaboration in research and education in the domains of sustainable development and carbon neutrality. This session was moderated by Kathryn Refshauge from the USYD Faculty of Medicine and Health.
More than 400 scholars and students from home and abroad registered for the symposium and over 2,300 people participated in it via live-streaming platforms.
(Article:Credits: Global Communications, Office of Global Engagement, ZJU)