Residential College
Student Single Room
Share Space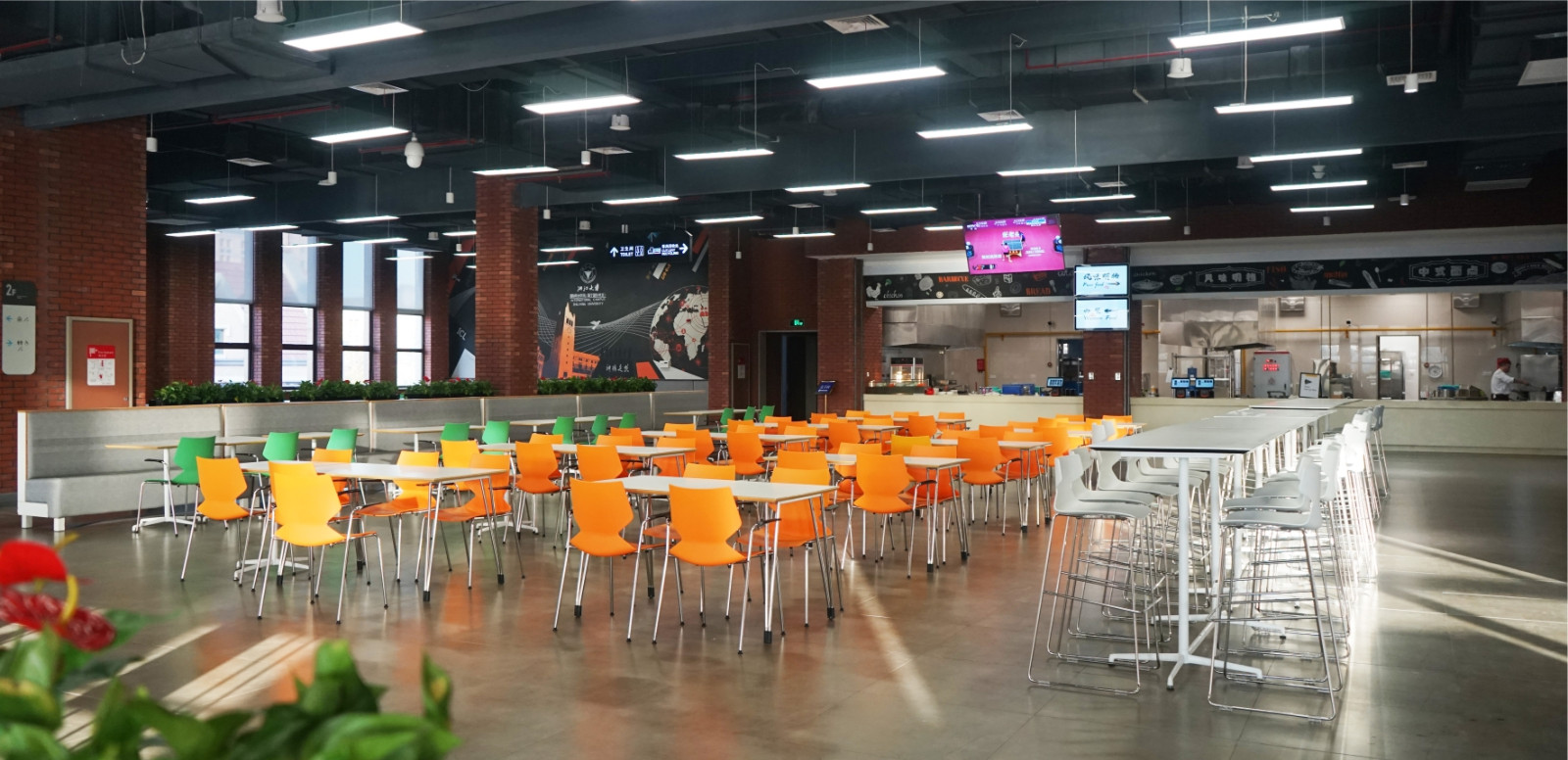 Canteen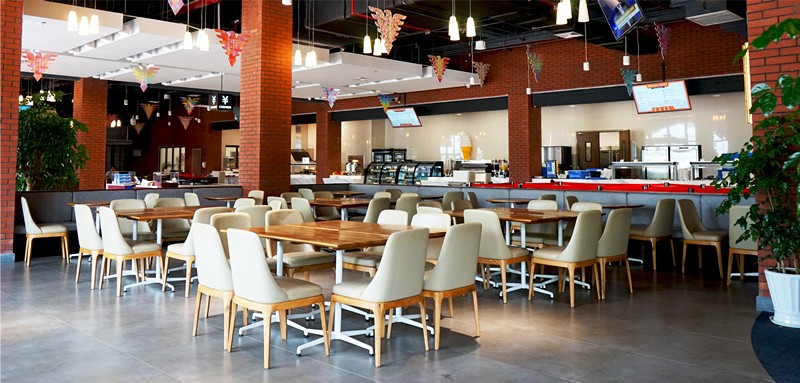 Canteen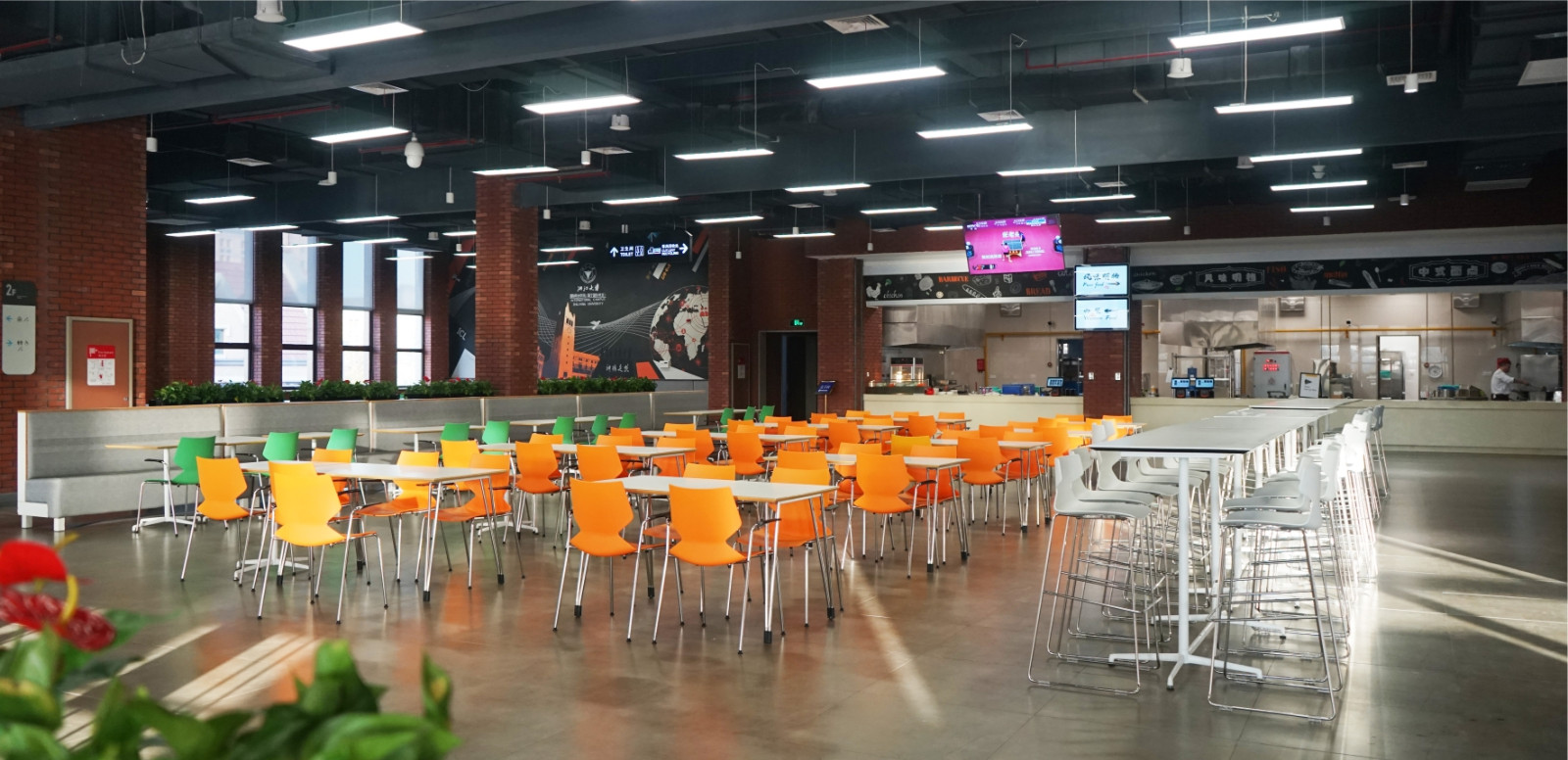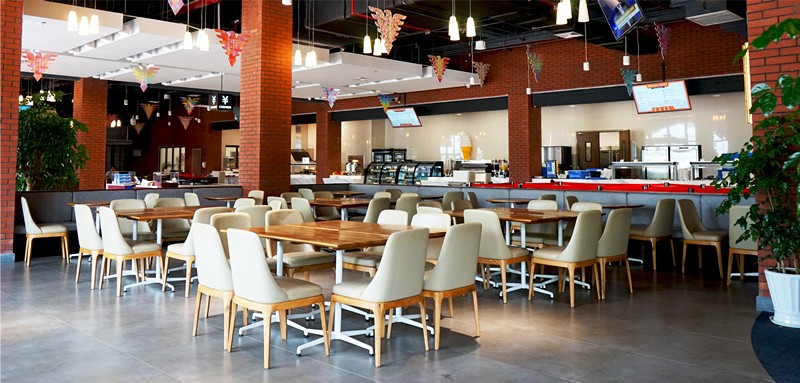 The International Campus, ZJU adopts a full residential college system, in which students and teachers live together. The Residential College integrates accommodation, self-study, discussion, leisure and social interaction. The multifunctional architectural design on the first floor (reading room, classroom, discussion room, gym, band room, etc.) provides students with an intimate and supportive study and living environment. Each student has an independent living space while sharing the common area and shares the living room and bathroom.

The Residential College is headed by Professor Tsui Lap-Chee, a famous educator and former president of the University of Hong Kong. He guides students' growth by implementing the "Five in One" tutorial system, and devotes himself to cultivate students' ability to adapt to international life, cross-cultural communication, global vision and responsibility. Students can enjoy various growth and development resources and services in the residential college, including mental health education, career planning, quality development programs, cultural exchange programs, etc.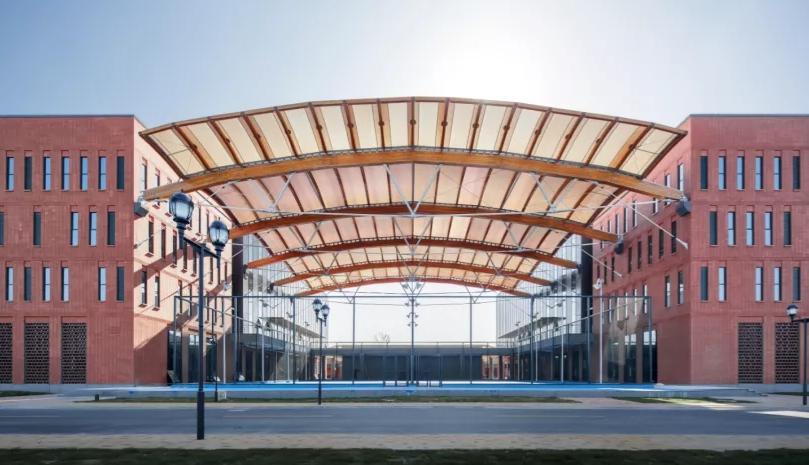 Stadium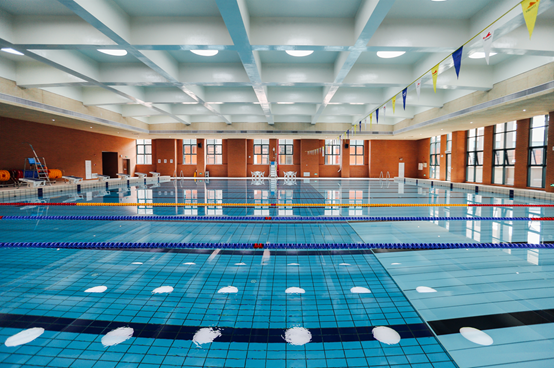 Swimming Pool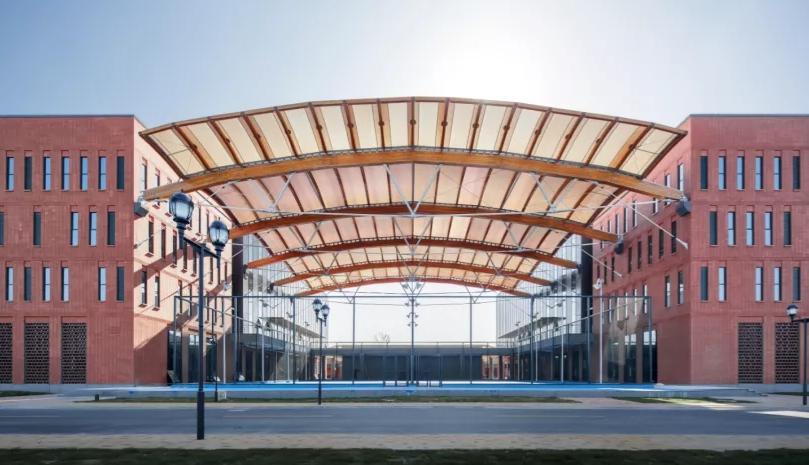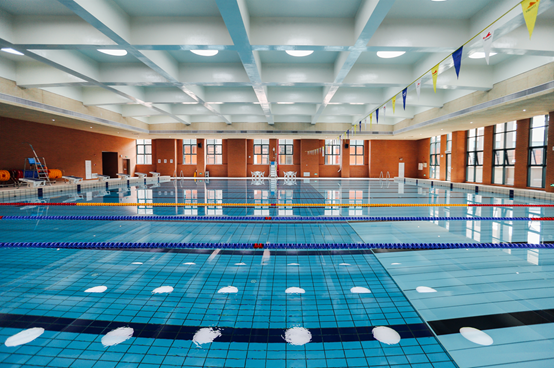 The International Campus encourages students to take an active part in various physical exercises, so as to strengthen their physique and realize the all-round development of morality, intelligence, physique and aesthetics. The campus has "Freshman Cup" and "Canglang Cup" sports competitions, covering basketball, football, badminton, chess and so on. Regularly organize students to participate in the sports competitions including basketball, rugby, tennis, table tennis, volleyball and other events.

The International Campus attaches great importance to both intellectual and physical developments of our faculty and students. Our campus is well equipped with sports facilities including basketball courts, football fields, tracks, volleyball courts, dancing rooms, gymnasiums, squash halls, tennis halls, badminton halls, indoor swimming pool, etc. We provide an accessible and convenient environment for physical exercises for faculty staffs and students. Students can visit myZJU.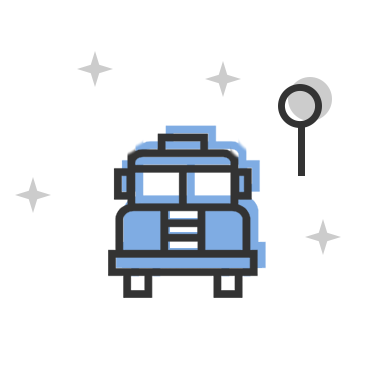 Shuttle Services: We offer faculty and enrolled students a number of safe, reliable and convenient shuttle bus services across International Campus and Zijingang Campus, etc. for the convenience of communication with campuses located in Hangzhou. Students may reserve their bookings in advance.
Shuttle Bus Reservation: Please login in at http://cocapp.intl.zju.edu.cn, or follow our WeChat official account "ZJU Logistics Service" in the Appendix "Useful WeChat"of this handbook for updates.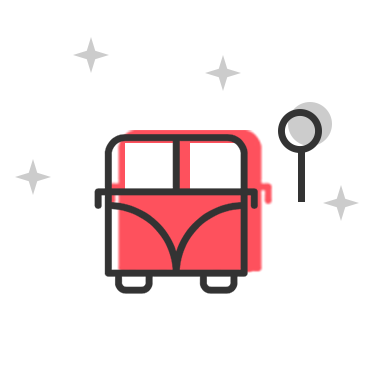 Public Transportation: Located at the North Gate on East Shuiyueting Road,there are bus stops for29, 32, 33, 202, and933. Inter-city transportation: Hangzhou-Haining Intercity Railway (The nearest station is International Campus, ZJU, located in the intersection of Haizhou East Road and Biyun South Road)
Location of the City: Haining is located in the south of the YangtzeRiver Delta in China, and in the north of Zhejiang Province. It is 100 kilometers from Shanghai and 61.5 kilometers from Hangzhou, within convenient distance to bus stops, railway stations and airports.
For More Information:Campus Public Transportation Guide: http://coc.intl.zju.edu.cn/en/node/1108
Haining

Leather-Silhouette Show

Lantern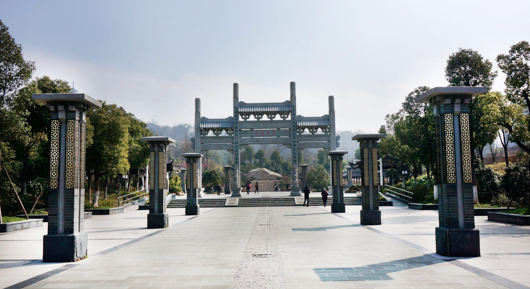 Haining Dongshan Forest Park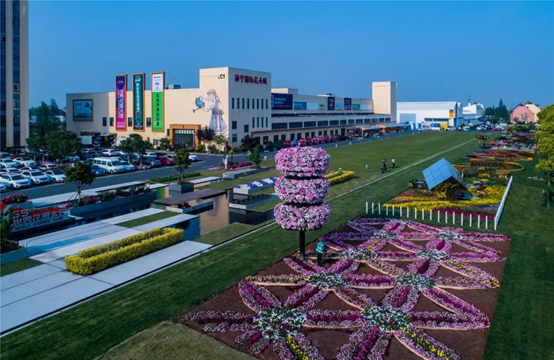 Haining International Flower City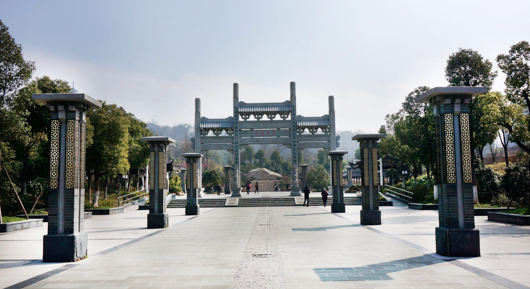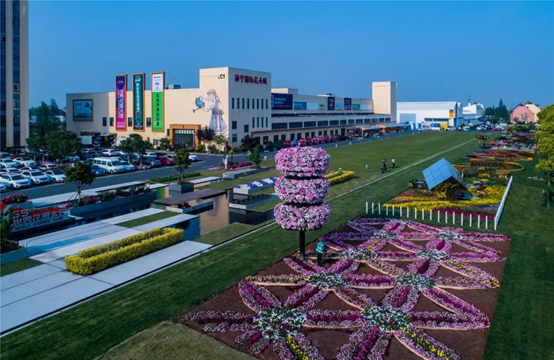 Haining City is located on the south tip of the Yangtze River Delta, in the north of Zhejiang Province in China. The city has total area of 668 square kilometers with a total population of 640,000, and has jurisdiction over four streets and eight towns. It is 100 kilometers away from Shanghai and 61.5 kilometers from Hangzhou.

Tide
Haining Tidal Wave, also known as Zhejiang Tidal Wave and Qianjiang Tidal Wave, is described as "the Wonder of the World " for "One-Line Across River".
Haining Tidal Wave is The Qiantang River Tidal Wave, which is one of three tidal bore in the world. The centrifugal effects of celestial gravity and the rotation of the earth, plus the special landform at the Hangzhou Bay Bellmouth cause the huge tidal bore. Haining Tidal Wave is well-known for "the Wonder of the World" where tourists can appreciate the spectacular view of "One-Line Tide", "the Meeting Tide", "the Turning-back Tide" at different places along the river. Since Ming and Qing Dynasties, the folks have always had the traditional custom of watching the tide on lunar August 18th.

Lantern
Haining Xiashi colored lantern is a famous artistic craft. It appeared in Tang Dynasty and thrived in Song Dynasty. After thousands of years development, the local folk cultural characterized with handicrafts, calligraphy and paintings as a whole was formed. Xiashi colored lantern has high artistic and aesthetic value, which was listed as tributes for the royal court.
Xiashi colored lantern originated in Xiashi Town, Haining City of Zhejiang Province 1200 years ago. And it became famous at first in the years of Qianfu in Tang Dynasty. Later in Southern Song Dynasty, Xiashi colored lantern was listed as tribute for the royal court.

Haining Shadow Play
Shadow play, also known as shadow puppetry, is one of the popular folk puppet theatre, and is also the world's intangible cultural heritage, which is acted by silhouette figures. The figures are made from leather or paper and create the illusion of moving images on a translucent cloth screen illuminated from behind. During performance, the troupe manipulate the opera figures and tell stories singing with popular local tone behind the cloth screen with percussion instrument and string music, which has rich local style. Shadow puppetry is a form of traditional folk art of the Han nationality, which is called "Donkey Skin Shadow Play" by the old Beijingers.


Grand Canal
On June 22, the 38th UNESCO World Heritage Committee meeting held in Doha, Qatar, reviewed and approved the China Grand Canal project. As part of the China Grand Canal, the Chang'an Grand Canal was successfully included in the World Heritage List.
The Chang'an "One Dam, Three Gates and Two Bays" in the Haining section of the Grand Canal is one of the most important historical sites in existence on the Grand Canal and is one of the 58 heritage sites of the Grand Canal. There are only two such heritage sites in the Jiaxing section of the Grand Canal.
Haining is one of the birthplaces of Liangzhu culture. According to archaeological evidence, ancestors lived on the land of Haining between 6000 and 7000 years ago. During the Spring and Autumn Period (507-444 BC), Haining belonged to Yue, Wu, Chuwu Township, Junli Township and Yuer Township. In Qin Dynasty, Haining was in Haiyan County and Youquan County. In the eighth year of Jian'an in the Eastern Han Dynasty (203), Xun Lu served as the captain of Haichang Tuntian and the consul of the county. In the second year of the reign of Wu State King Huangwu of the Three Kingdoms (223), both Haiyan and Youquanyanguan counties belonged to Wu county, Yangzhou, which was the beginning of the establishment of Haining County. In the 7th year of Tang Wude (624), it was merged into Qiantang County, and in the 4th year of Zhenguan (630), Yanguan County was restored. In the first year of Yuanzheng (1295), it was upgraded to Yanguan Prefecture, and in the second year of Tianli (1329), it was renamed Haining Prefecture. In the second year of Hongwu in the Ming Dynasty (1369), it was degraded to Haining County belonged to Hangzhou Prefecture. In the 38th year of Qianlong in the Qing Dynasty (1773), it was upgraded to a state. In the first year of the Republic of China (1912), the state was changed to a county, and it was directly managed by Zhejiang Province. In the first year of the Republic of China (1948), it was the first administrative inspectorate. When liberated in May 1949, Haining County was built, which belonged to Jiaxing Prefecture. Haiyan County was merged into Haining County in October 1958, and Haining County was rebuilt in December 1961. In November 1986, Haining County was withdrawn and Haining City was established, which belonged to Jiaxing City.

Yanguan Tourist Resort
Yanguan tourist resort is an important tourist attraction in Haining, the main attractions include Yanguan old style street, the former residence of Wang Guowei, tide-watching park and hundred miles of Qiantang resort.
Haining Hundred Miles Qiantang International Tourism Corridor is located in the north shore of the Qiantang River, with a riverside length of 48 kilometers and the total area of 96.86 square kilometers, that's why it got a very vivid name "Hundred miles Qiantang." Along the river, there are " the meeting tide in Dingqiao Big Gap ", "one line tide in Yanguan" and "turning-back Tide in old Yancang" and other attractions , where you can enjoy the spectacular and ever-changing view of the Qiantang tidal bore.

Jianshan Scenic Spot
Jianshan makes use of existing natural resources, combining artificial landscapes with natural landscapes, and vigorously develops Jianshan ecological tourism and leisure scenic spots based on ecological agriculture.
The Jianshan Bayberry Festival attracts a large number of tourists every year to visit and pick. Go to Jianshan Village to pick farm fruits, eat farm meals, fish farms, and watch farm scenery.
The huge Jianshan Flying Camp is located on the top of a 187-meter-high Jianshan Mountain in Jianshan Village, Huangwan Town. There are two landing sites on the side of the mountain to ensure safe landing. Construction of the flying camp began in November 2015. The top of the deserted mountain has been paved, and a viewing platform for tourists to rest has been built next to it.
Haining Jianshan Golf Club is located in Jianshan New District, Haining City, Zhejiang Province. It sits on the bank of Qiantang River and at the foot of Jianshan Mountain, which is 80 kilometers east of Shanghai and 60 kilometers west of Hangzhou. It is currently the only 36-hole international championship golf course in Zhejiang Province.

Nanguanxiang Historical Streets
No. 158, Renmin Road, Haining City
Nanguanxiang is a well-preserved and rare-seen old streets in Xiashi Town which remained Ming and Qing Dynasties street styles at present. Now the whole streets well retains the historical features and traditional patterns of the combination of business and residence, the front store and the back river, the small bridge and flowing water.
In 2006, Nanguanxiang Historical Streets was listed as the provincial historical cultural streets.
The main spots include: Jiangnan Colored Lantern Art Street, Haining Shadow Play Heritage Center, Former Residence of Wu Qicang and Wu Shicang, Huiyuan Nunnery and Zhou Zongyi Memorial Hall.

Haining Dongshan Forest Park
No. 1,Yujia Bridge, Xiashi, Haining City
With the theme of"Modern and Ancient Resorts surrounded by the water and hill", the park is built as a city comprehensive park with the water and hill intended for Haining citizens to do leisure and entertaining activities.
Dongshan will set up more than 20 scenic spots to reproduce the twenty-four sceneries of Xiachuan, including Shijing Fish Watching and Penghu Misty Rain. In addition, the story of Gu Kuang's reading desk will also be reflected in "A Visit to Gu's House". The peaks of Dongshan are beautiful, the forests and gully are pretty, and there are many historical sites, especially the "Ancient Pagoda in the Sky". The Zhibiao Pagoda was built in the Eastern Jin Dynasty (317-420 AD) and was originally named "The Eight Blessings". In the Song Dynasty, a monk called Zhibiao reconstructed it through collectiong alms, that is why it gets the name today.

Juanhu Lake Wetland Park
Biyun South Road, Haining City
Juanhu Reservior is located in the south of Haizhou Rd, the north of Jiangnan Ave, the East of Biyun Nan Rd, and the West of 08 Provincial Rd.
The various sceneries and garden points around Juan Lake include Chinatown·Liuguang Waterfront, Chaoyin·Taying Rock Beach, Jingxiu·Energetic Harbor, etc., integrating elements such as Haining's lanterns and shadow puppet culture, tide culture, creative park, roller skating into different blocks to form a unique and distinctive theme, achieving great lake view and balance of the lake and scenery, so as to improve the city's taste. In this way, Juanhu Lake will be transformed into a blue-green ecological realm that is full of vitality, a public living corridor sharing healthy vitality, a cultural landscape area showing regional characteristics, and a low-carbon harmonious link that maintains urban development.

Luzhong Ancient Town
Luzhong is a typical Jiangnan ancient water town with a compact layout and flowing waterway.
Centered at the Deyi Bridge, big straight street and big west street formed a "T" shape. Among the streets there are many dense houses in small scale but very distinctive. Residents live by the river. There are some river ports and ancient revetments along the river. The house is built along the water, half of which is built above the river. And there is an exclusive river port under the house for washing and water fetching.

Former Residence of Xu Zhimo
No. 38, Ganhe Street, Xiashi, Haining City.
Opening Hours: 8:30 am.- 17:00 pm.
The former residence of Xu Zhimo is the residence of the famous modern poet, essayist, and leading figure of the "Crescent" Xu Zhimo after marrying Lu Xiaoman. There are basic displays, interactive displays and restoration displays in the old house. These displays vividly show Xu Zhimo's brilliant and short life, as well as his achievements and contributions in the Chinese New Culture Movement.

Haining Leather City
No. 201, Haizhou West Road, Haining City.
Haining China Leather City is a national AAAA-level tourist attraction. It was completed and opened in 1994, which is the leading market of China's leather industry, a national distribution center for leather clothing, fur clothing, leather goods, luggage, fur, and leather. It is also the trending publishing center of leather price information, market quotation, and fashion.

Liangjiatun
No. 13, Liangjiatun, Xincang Village, Dingqiao Town.
Liangjiatun, Xincang Village, Dingqiao Town, is adjacent to Wengjin line (the old 01 provincial highway) and Xintang River to the north and Qiantang River to the south. It is a rural leisure eco-tourism area integrating tourism reception, accommodation, catering, and agricultural experience. Liangjiatun is an open rural tourist attraction, close to the Qiantang River seawall, where you can enjoy the majestic momentum of the cross tide.

Haining International Flower City
Chang'an Flower City
Haining International Flower City has a thousand acres of flower base, which deeply integrates the development of the flower industry and tourism. It has specially set up the garden center, garden accomodation and speiciality restaurant, satisfying the one-stop needs of tourists for food, accommodation, travel and shopping. A European-style building with tens of thousands of square meters and Hongyue Homestay which is a must visit place for infuencers. The homestay was built by ordinary farmers. After transformation from decay into wonder, the hotel was reborn in Nirvana and won the 2019 "Contemporary Good Design" award.


The Campus Service Hub is located on the first floor of the Student Service Center, it is the window of the international campus to provide comprehensive campus services for teachers, students and visitors. It mainly provides consulting and handling campus card service, campus transportation service, access control service, shuttle bus service, teachers' apartment service, visitor service, Zijingang Campus administrative affairs agent service, administrative service hall service and other campus services.
Location: First floor east side of the Student Center
Time: Monday to Friday 8:00-17:30
Weekends and Holidays 8:30-17:00
Tel: 0573-87572114(24H)
Email:csc@intl.zju.edu.cn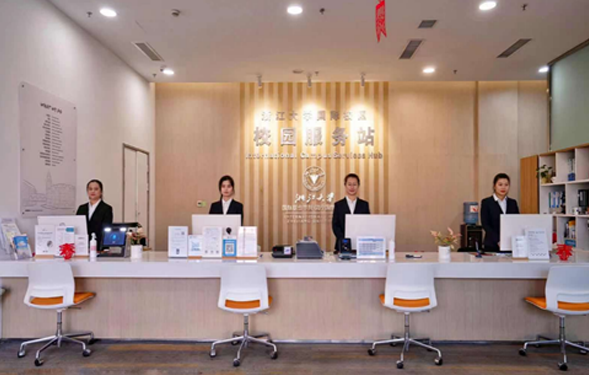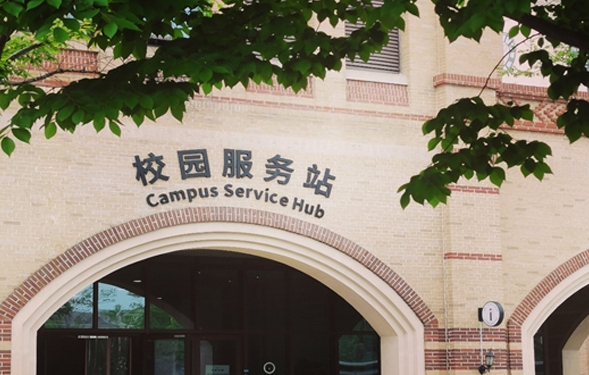 Campus Card Service
Upon admission, the freshmen will be applied for the Zhejiang University Campus card. The Zhejiang University Campus card is the identity symbol of the students on campus, integrating the functions of borrowing books, dining, access control, commerce and shopping, etc. At the same time, the campus card can also be settled in the restaurants and other consumer sites of zhejiang University.
1.Campus Card classification
Campus cards can be classified into formal cards, function cards and consumption cards according to the identity of personnel. The following table lists the types, users, and functions of each card. For more information, please visit the website of ZJU: HTTP //zuitszjuedu.cn.
2.Zhejiang University Campus Card APP
Visit http://ecardzjuedu.cn/ to download the campus card APP "Zhejiang University Campus Card". Through APP, you can carry out card recharge, balance query, flow query, card loss report/unhang, query/modify password and other services.
3.Campus card recharge
Alipay recharge (Alipay search campus life,entering the one-card recharge, Alipay recharge support for others);
Go to the front desk of campus clothing station with your card for cash recharge;
Set automatic transfer (automatic transfer by the bound bank card, binding business can be handled at the designated bank outlets);
The self-service all-in-one machine can transfer money to the campus card,Address: Self-service bank in the commercial Street (24-hour service);
Recharge with "Zhejiang University Campus Card" APP。