The First International Competition on Modern Bamboo Structure Building Design rounded off on May 13th. The ZJUI team, composed of freshmen LI Xinyang, YU Yingying, LE Zhiyuan, and CUI Xiaotong and DONG Siyi (21', Civil Engineering), clinched the Innovative Design Award with their project "Loft without Autumn".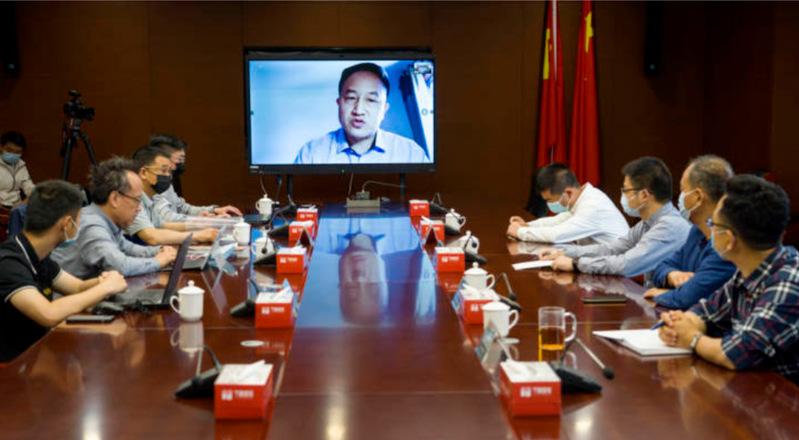 As part of Z4G, Zhejiang University's sustainability action plan in response to the UN 2030 Agenda, the competition was organized by Zhejiang University - University of Illinois at Urbana-Champaign Institute (ZJUI), Zhejiang University (Ninghai) Joint Research Center for Bio-based Materials and Carbon Neutral Development, China Wood Protection Industry Association, the Engineered Bamboo Structures Task Committee of the American Society of Civil Engineers (ASCE). Since its launch last November, the competition received 71 design works in total with the registrations from over 200 student teams in more than 50 universities. 
Prof. CUI Kai, member of Chinese Academy of Engineering, Prof. Liu Jiaping, member of Chinese Academy of Engineering, Prof. Billie F. Spencer Jr., foreign member of Chinese Academy of Engineering, and other domestic and foreign experts in the field of architecture were invited to participate in the online review.
The first prize went to South China Agricultural University and Nanjing Tech University, with the second and third prizes awarded to the Ethiopian College of Architecture, the University of Auckland from New Zealand, and Southeast University from China, etc. 
Though many team members have studied at ZJUI for no more than few months, they are imbued with unique vigor and vitality. "It is true that we are freshmen lacking in professional knowledge and skills, and our project is far from flawless. But we still hope to broaden our knowledge scope through diligent study and careful planning, so as to make further contributions to the SDGs," shared the team members.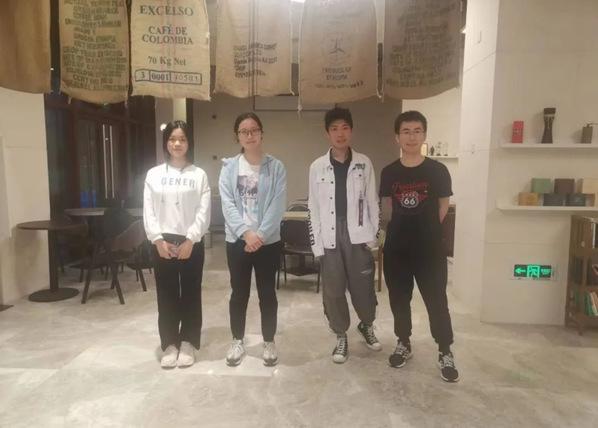 The ZJUI team members: CUI Xiaotong, YU Yingying, LI Xinyang, LE Zhiyuan (from left to right)
As they said, the project carefully considered the local environment, the population structure of the residents, their living needs, and some other architectural factors like the structural forces, deflection, earthquake resistance and wind resistance. To realize the SDGs in the long run, they also provided some suggestions on how to live in low-carbon lifestyle for the local residents.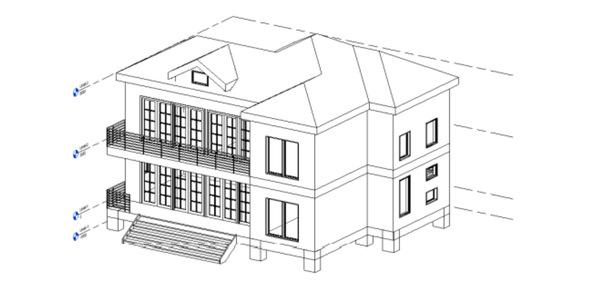 3D model of the project "Loft without Autumn"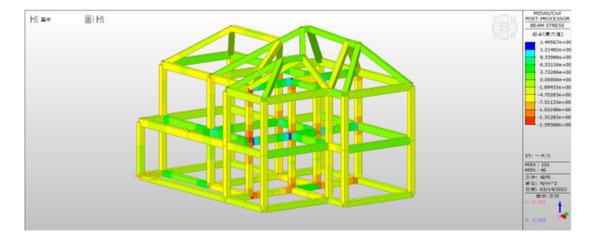 Stress analysis of the project "Loft without Autumn"
The idea of sustainability is so permeated in the project that it found evident expression also in its format. In the process of designing     the structure, LI Xinyang's team adopted BIM (Building Information Modeling) technology, making the entire designing process more scientific via digital technology. Hence they obtained an optimal solution of relatively low carbon emission and high economic efficiency under the condition of structural safety.
As a natural renewable material, bamboo matters and will matter more in construction industry for its high strength, great toughness and delicate texture. "We selected a village in Ninghai as the spot of the competition. It is halfway up the mountain, insufficient in sunlight and inconvenient in transportation, so most villagers went to earn their living in the big cities, and left were few elderly people", introduced Prof. XIAO Yan, director of the Committee.
"The reasons why we chose this village are as follows: firstly, Ninghai abounds in bamboo resources and it has a mature industry of bamboo and wood processing. Secondly, we hope that via the competition, the design can be implemented in the village, so as to refine local rural housing, develop local industries and win back young villagers to start their business in their hometown," continued Prof. Xiao.
Asked the original intention of this competition, Prof. XIAO expressed his expectation to facilitate the implementation of SDGs. "We hope that these simple low-carbon living designs could provide Ninghai and other regions with references to use biomass bamboo and wood materials reasonably, which is likely to further develop biomass material engineering structures and promote energy saving and emission reduction in the construction industry."
In addition, Prof. Xiao explained the distinctiveness of this competition. "The topic of this design competition differs from others mainly in that we center more on the integration of architectural design and structural design, and the comprehensiveness in multiple disciplines including carbon footprint calculation. Surprisingly, we are glad to see that so many student teams from home and abroad have participated and submitted designs with creativity and professional skills."
At last, Prof. Xiao gave high remarks to the achievements of ZJUIers. "We are pleased to see that ZJUI teams were able to open their mind and develop fresh ideas even though in short of specialized knowledge. It also shows that the students not only have accumulated knowledge, but also have acquired certain methodologies for learning and engineering innovation."
Some awarded works will be implemented in the Ninghai Village Reconstruction Project, supported by the Zhejiang University (Ninghai) Joint Research Center for Bio-based Materials and Carbon Neutral Development together with Ninghai City Investment Group and other corporations.
Article: QI Shengwei
Translation: XU Jiawen, YU Mengyue
Editing: SHI Yuxi,ZHANG Jinmei, TIAN Minjie
Source: ZJU Newsroom