On the morning of October 24th 2023, a signing ceremony was held in Ordos City, Inner Mongolia, for the Joint Research Center for Biopharmaceuticals, which has been established by the People's Government of Ordos City, the People's Government of Otog Banner, and Zhejiang University. The ceremony marks the beginning of a new chapter in cooperation between Zhejiang University and local government.
Professor FU Qiang, Vice President of Zhejiang University, attended the signing ceremony and delivered a speech. Gao Wenhe, member of the Standing Committee of the Ordos Municipal Committee and Minister of the Organization Department, and Hua Ruifeng, Deputy Mayor of Ordos City, were also present.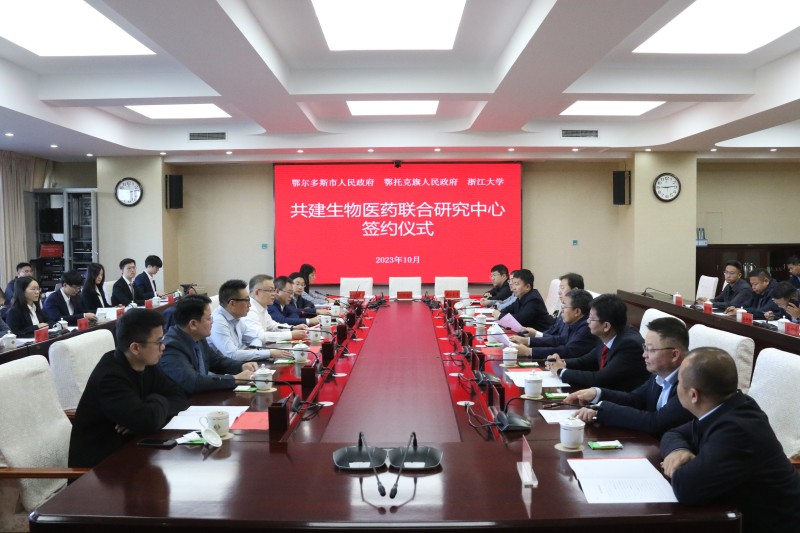 Professor FU Qiang expressed gratitude to Ordos City for its continuous support of Zhejiang University and noted the city's achievements in scientific and technological innovation, especially as it  has become an important hub for innovation in the central and western regions of China. Over the years, Zhejiang University has maintained close exchanges with Ordos and has carried out in-depth cooperation in the fields of medicine, energy, chemistry, construction, and electrical engineering. Education, science and technology, and talent are both strategic and fundamental for Chinese-style modernization and are an indispensable driving force for promoting high-quality development. Against this backdrop, this new cooperation between the university and the local area is highly strategic. It is hoped that both parties will seize the opportunities available, focus their efforts, and implement Zhejiang University's high-quality scientific and technological achievements and major research projects in Ordos, thus promoting both science and technology education and industrial development.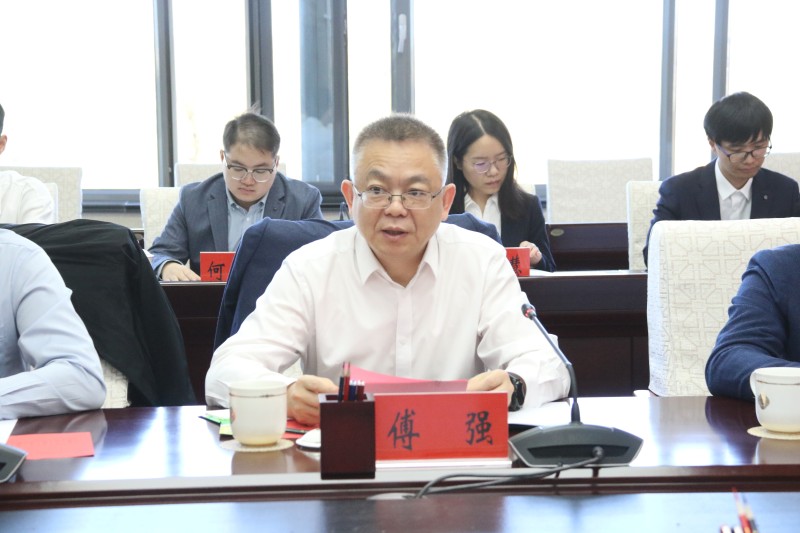 The signing of the cooperation agreement for the Joint Research Center for Biopharmaceuticals is a significant step for Zhejiang University to leverage its expertise and serve the innovation-driven development of the central and western regions of China. Both parties will focus on the field of biopharmaceuticals, cooperating closely and sharing resources for the mutual benefit of all involved. With Zhejiang University's strengths and expertise in scientific research and innovation as its foundation, this new venture will promote the transformation and upgrading of the traditional energy industry in Ordos City and Otog Banner, lead the high-quality development of agriculture and animal husbandry, and contribute to the construction of an innovation hub for the central and western regions.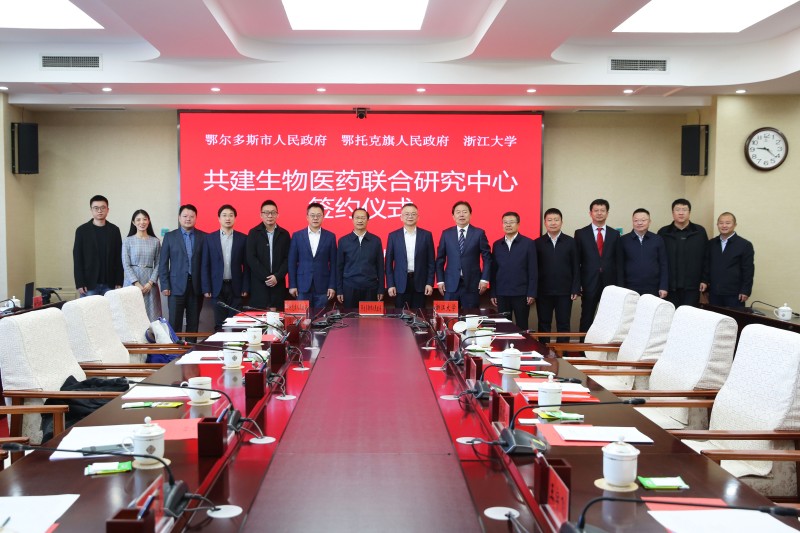 Representatives from The Sci-Tech Academy of ZJU, International Campus, and ZJU-UoE Institute, as well as representatives from Ordos City Science and Technology Bureau and Otog Banner, attended the signing ceremony.
The Zhejiang University-Otog Banner, Ordos City Joint Research Center for Biopharmaceuticals
The Zhejiang University-Otog Banner, Ordos City Joint Research Center for Biopharmaceuticals is the 8th university-government (enterprise) research center of the International Campus and the first research center with cooperation funding exceeding 100 million RMB. The center, which is headed by Dr. ZHOU Min from the ZJU-UoE Institute, is an emerging research institution with six integrated functions: gathering leading experts in the field, cultivating innovation, providing public platform services, technology transfer, incubating emerging enterprises, and strategic consulting and planning.
In recent years, Dr. ZHOU Min's team has conducted related research on spirulina drug delivery systems and has achieved a series of pioneering results. They have published highly acclaimed cover papers in prestigious journals, including some from the Nature and Science families of journals. Their work has also shown excellent therapeutic effects in the treatment of diseases such as diabetes, difficult-to-heal wounds, heavy metal toxin adsorption, and gastrointestinal inflammation. They have truly realized the tremendous potential of tiny spirulina and its wide-ranging impact on the human body.
Article: GU Bin
Photography: Media Center of Ordos City
Editing: LI Yinan
Editing in charge: XUE Qian
Reviewer: WU Fengbin
Translation: REN Yue
English Editing: Nicholson, Caitriana