The 19th Asian Games in Hangzhou came to a close on the evening of October 8th. Some Chinese and international iZJUers were involved in various volunteering work.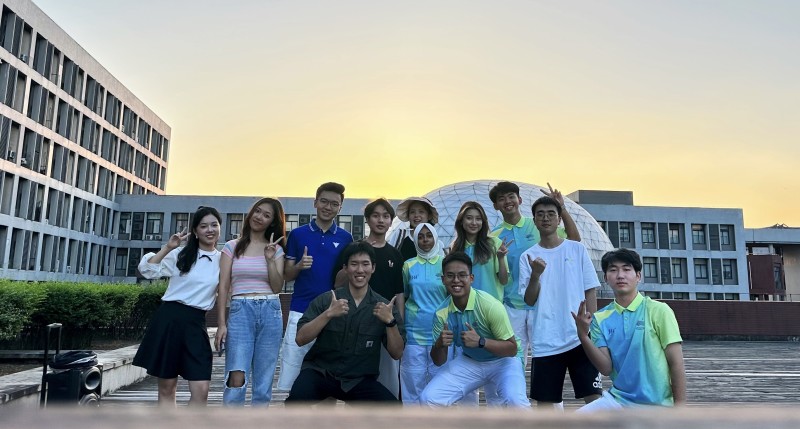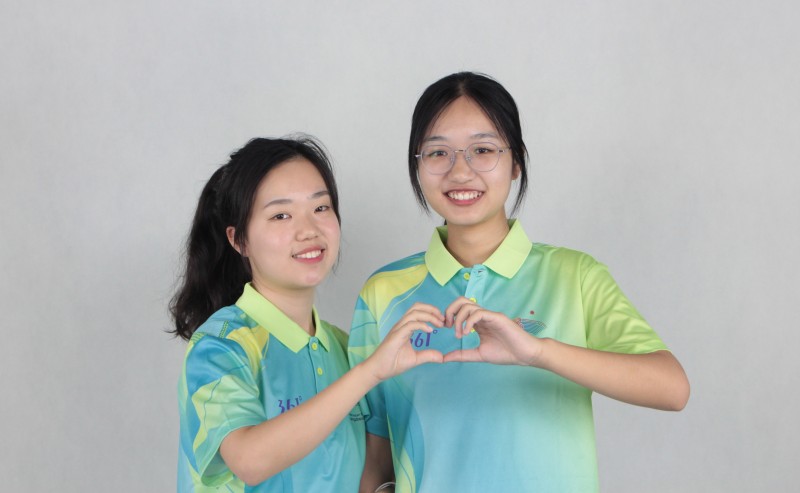 As an undergraduate majoring in Computer Engineering of ZJUI's class of 2026, XU Ruiling expressed the sentiments of many "Xiao Qing He" (the nickname of the volunteers in the 19th Asian Games), "Such a large international event held in China, and it happens to be near to the city where I study. Moreover, I had the opportunity to sign up... So, I made the firm decision to become a volunteer! This is a very precious experience for me!"
A total of 43 student volunteers from International Campus, participated in the volunteer service for the Asian Games. In the Olympic Council of Asia (OCA) family, they assisted guests from various countries, managed transportation, relayed information, and engaged in sincere communication. In the Main Media Center (MMC), they served both the domestic and foreign media, promoted the Chinese voice, and shared the stories of China's younger generation with the world. Additionally, there were also volunteers involved in etiquette and flag-raising duties.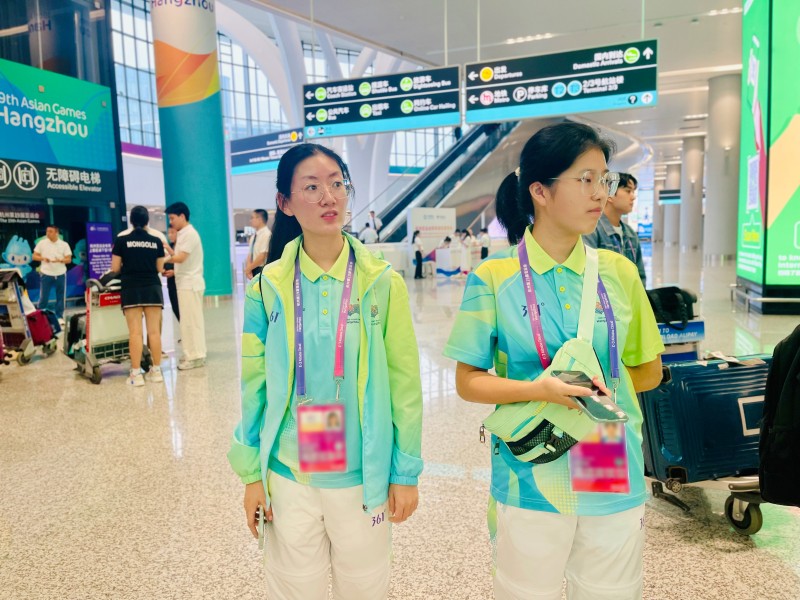 "This is a once-in-a-lifetime opportunity and a challenge to test oneself."
XIONG Shihan, an undergraduate majored in Biomedical Sciences of ZJE's class of 2025, felt honored to put on the "Xiao Qing He" uniform and serve as an assistant volunteer in the OCA family. Her role involved liaising with foreign guests and providing them services. While initially feeling lost with the abundance of tasks, she quickly gained confidence in her position, as she demonstrated with the ability to adapt to various unexpected situations. Among her experiences, she considers her daily work of managing the guests' commute to be the most memorable. While the volunteers have their schedule informed in advance, the guests' itineraries often change. In such cases, her team needed to proactively coordinate with transportation and venue personnels to ensure that the guests' schedules were not affected.

During her over-half-a-month of volunteer life, she got to know foreigners from different cultural backgrounds and made many like-minded friends. She said that she will always cherish this experience and continue to pass on the spirit of volunteering, saying, "I believe that students from Zhejiang University will successfully complete this task and showcase the charm of China to Asia and the world!"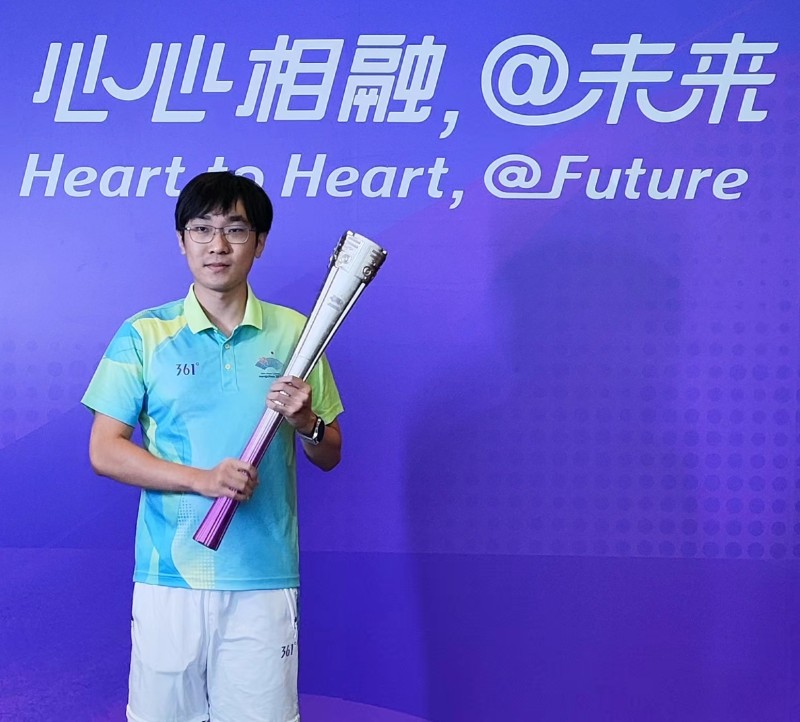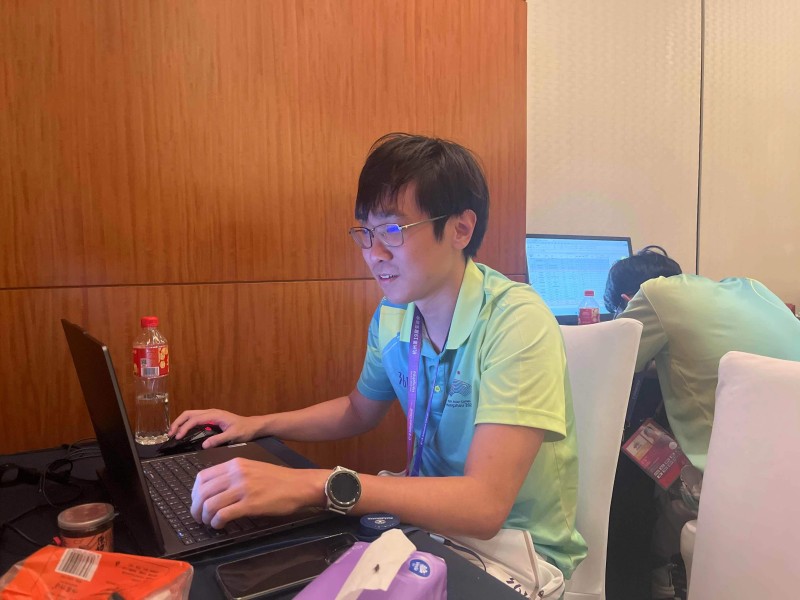 "I hope that athletes from all countries will perform at their best in the Asian Games and promote friendship and cooperation among Asian countries, bringing more peace and unity to our world."
Several international students from International Campus also volunteered for the Asian Games. WEN Yuyi, an undergraduate from Singapore majoring in Global Communication and Management of ZIBS's class of 2026, was one of them. He was part of the protocol service team and his responsibilities include handling flag and award-related information, coordinating events, and document management.

There were many particularly unforgettable moments during his volunteering service, such as successfully coordinating the logistics for an important meeting or witnessing the flags flying high at different competition venues. "I am incredibly proud to contribute behind the scenes at the Asian Games and witness this representation of Asia's diversity and athletic prowess. As an international student, I hope for the resounding success of this event, where athletes from different countries perform at their best and promote friendship and cooperation among Asian nations, ultimately bringing more peace and unity to our world. Thanks to the other volunteers and staff; I hope this Asian Games leaves everyone with wonderful memories!" WEN said.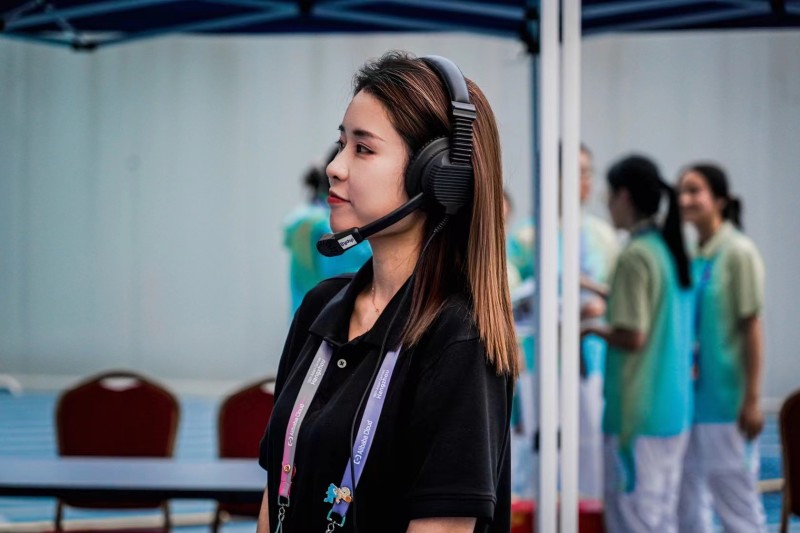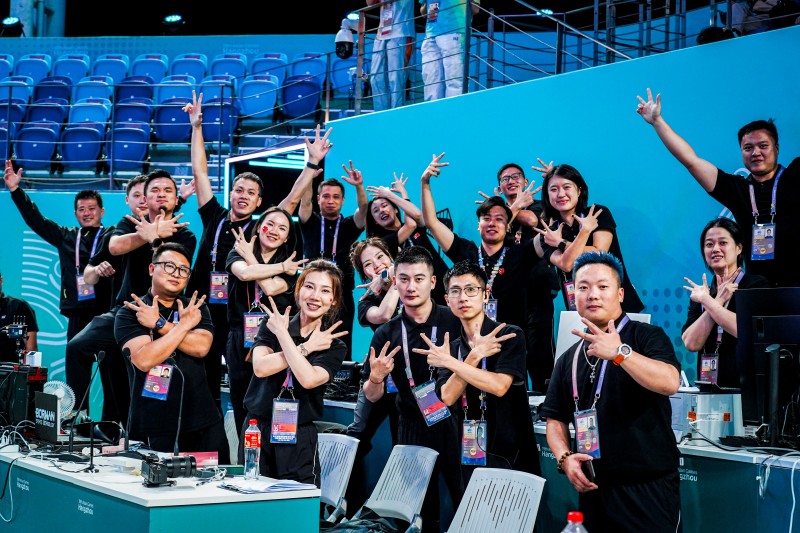 "We hope to immerse everyone in this passion and love, collectively experiencing the joy and inspiration brought by sporting events."
This year's Asian Games have been remarkable with the highly popular theme songs "BGM" (Background Music) and the inclusion of sports DJ, creating a lively atmosphere. Furthermore, live performances of Chinese songs like the "千年等一回" (A Thousand Years to Wait), marriage proposals at a table tennis match, a champion's rendition of the "稻香" (Rice Fragrance) before the award ceremony, and even staffs leading the dance floor, have infused a unique emotional resonance between athletes and the audience. They have made competitive sports heartwarming and touching. In addition to student volunteers, several faculty and staff members from International Campus have used their professional knowledge and skills to participate in the Asian Games service. One of them is YANG Yinzhi from ZIBS, who worked as a sports presentation director at the Asian Games. "Sports Presentation" involves using various artistic symbols, audio, video, and interactive language behavior at the competition venue to present a more diverse and comprehensive sporting event to the live audience, athletes, and technical officials.

"Sports presentation requires precision down to the exact seconds at every stage of the competition. During the event, music, videos, all processes, and scripts need to be repeatedly confirmed with over 10 individuals, including assistant directors, venue assistants, and equipment teams, under the coordination and direction of the director to ensure everything goes perfectly." YANG explained. During the competition, she was responsible for overseeing the entire event from her control desk. She watched the athletes' performance in real-time, collaborates with Chinese and English commentators, directors, lighting and audio teams, ensuring a rich and colorful experience for both the athletes and the audience. She emphasized that all the ceremonies and highlights stem from the meticulous preparation and planning by the entire sports presentation team. She hoped that on the vibrant stage of the Hangzhou Asian Games, sports presentation can immerse everyone in this passion and love, allowing them to collectively experience the joy and inspiration that sporting events bring, while also conveying the spirit of sports and the charm of Hangzhou.
Planner:XUE Qia, LI Yinan;
Article and Photos: Volunteers, YU Qian, HONG Zhenzhen;
Editing: LI Yinan;
Editing in charge: WU Fengbin
Translation: XIA Dayu
English Editing: LIU Shuaiyin, Robert Holmes